PLEASE NOTE: The following is presented as general educational information. It is not legal advice, either express or implied. Consultation with legal counsel is recommended for all employment law matters. This information is subject to change without notice.
Immigration reform continues to be a hot topic for legislative bodies around the U.S. The President has amended Executive Order 12989 requiring all federal contractors to use the E-Verify program to ensure the employment eligibility of their employees. In addition, several state and city governments have passed legislation which requires employers to participate in the E-Verify Program.
The interactive map below links to more information about each state's E-Verify legislation. To access detailed state information, simply click on one of the colored states.
Click here to view a summary of all legislation.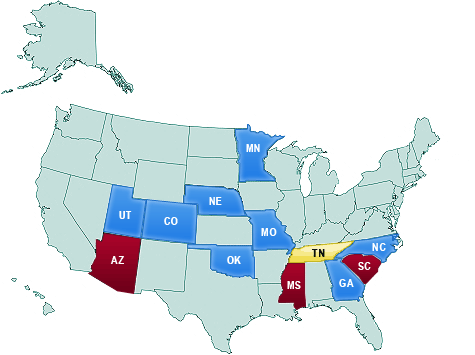 Use of E-Verify provides shield from sanctions
E-Verify Required for state public employers and/or contractors
E-Verify Required for All Employers
Note:
Executive Order 12989 requires most federal contractors to use E-Verify effective 9/8/2009.
Screen 360's E-Verify Solutions
It's difficult to follow the rapidly developing state legislation mandating use of the E-Verify program. That's why we recommend using E-Verify for all your new hires, regardless of their location. Instituting a consistent E-Verify program across all locations keeps you ahead of rapidly changing E-Verify regulations.
Screen 360's E-Verify solution helps you maintain compliance across your organization and reduce the time it takes you to process an E-verify query - by up to 67%. Our check queries E-Verify databases to instantly verify new employees' U.S. work eligibility and can be easily incorporated into your onboarding process company wide, creating an efficient, consistent, and compliant process. Step-by-step user guidance simplifies exception management while management alerts save time and eliminate worry by doing away with manual "tickler" events for follow up action items.
Federal contractors are faced with the daunting task of running hundreds or thousands of E-Verify checks in a short amount of time because existing employees also need to be submitted to E-Verify. Screen 360 offers a two-part solution to relieve your administrative headaches, and ensure both your existing employees and new hires are "E-Verified" as mandated by Executive Order 12989.
Need a comprehensive Employment Eligibility solution? We can help design a robust management tool to deliver electronic I-9 forms processing integrated with E-Verify, incorporate existing paper I-9s and accommodate ongoing and ever-changing needs such as the transfer of I-9/E-Verify records for employee moves, automation of termination dates for proper auto-purging, and more.